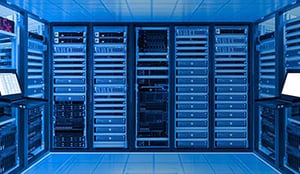 If you're considering outsourcing some of your company's IT responsibilities, we understand that the process of finding the ideal proactive data center partner can seem a little daunting. You may be wondering which specific elements to look for in a data center partner, or how to get started in your search. The good news is that we can help.

Our team of IT professionals and engineers have been handling the day-to-day enterprise technology operations for a variety of businesses, for many years. Regardless of the size of your company, our staff understands the ins and outs of the technology that keeps your business running and your customers' information safe. As you seek out a new proactive data center partner, be sure to keep three important elements in mind; a redundant back up system, flexible pricing opportunities and a high-quality infrastructure.
Redundant Back Up
While there are several storage options for your company's data online such as Drobox, Google Drive and others, those applications only protect the specific files you've selected to upload and share to your account. Ultimately, it's much safer to utilize a protected, cloud-based solution offered by a professional data center partner to ensure that all of your data is being protected. Also, a proactive data center partner can guarantee that your company's data is backed up routinely.
Can you imagine if your customer's data was accidentally leaked due to poor internal data storage practices? Or if a natural disaster such as a flood affected your internal services before you had a chance to do one last backup? If your team opts to outsource your data storage and backup needs to a data center partner, in the event of an unexpected disaster, you won't need to worry. Unfortunately, these situations can be unpredictable and difficult to recover from.
Our team offers businesses custom solutions for file archiving and backup, virtual or physical machine backups, and data storage options.
Flexible Pricing
When researching a potential proactive data center partner, be sure that they offer the ability to scale your services up or down as you need to. Whether you're a growing company that has plans to hire additional staff members in the near future, or take on more clients, it's important you're not locked into a service package that doesn't fit the needs of your growing company.
On the other hand, if you happen to experience unexpected staff layoffs or financial hardships, it's imperative to know that your data center partner has your back and will work with you to downsize your services as needed. Before you sign on the dotted line, ask if "pay as you grow" as well as downsizing capabilities are included in the prospective data center partner's services.
High Quality Infrastructure
Last but certainly not least, it's essential to confirm that you're partnering with a data center that has a high-quality infrastructure. So, how can you be certain that's the case? First, ask whether they offer customizable solutions, unique to your business. Next, inquire about their operating systems; what do they include? This information should be super transparent. For example, we outline our operating systems directly on our website, which include OS400, AIX, Linux, Windows Server 20XX. With in-house IBM AIX/Redhat/iSeries expertise, we can handle your IBM PTFs, Technology Refreshes, and version upgrades, too.
Additionally, ask about these specific factors when researching a proactive data center partner:
• Do they work with just one or two carriers, or do they offer carrier neutrality and allow you to select the carrier that best fits your needs?
• How available is their team? Are they there for your company 24/7, monitoring and protecting your data? Do they mention things such as an uninterrupted power supply, redundancy, and backups for your information? • What happens in the event of a disaster? Do they protect against catastrophic things such as data loss, revenue loss, and help you get up and running quickly?
Protect Your Business
For colocation, hosting, backup and storage, managed services, disaster recovery, or whatever your needs may be, Racksquared can be that proactive data center partner that is there for you as your business grows. Contact Racksquared today at 614-437-4944 or email sales@racksquared.com.