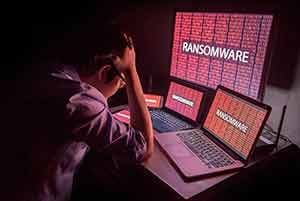 "Ransomware damages are predicted to cost the world $11.5 billion in 2019, and $20 billion in 2021" according to "Cyber Security Ventures 2019 Official Annual Cybercrime Report". They go on to say that they predict that "a company will fall victim every 14 seconds by 2019, and every 11 seconds by 2021". What many don't realize is that these threats aren't focused solely on large enterprises that can pay big ransoms, but instead take broad aim and seek to collect smaller ransoms from lots of companies. This focus on small to medium sized companies by hackers is often due to the fact that they have fewer security resources than their larger counterparts.
The good news is, we have some simple recommendations that any company can take advantage of to better protect themselves from an attack and, in the event of an attack, help them recover quickly thus reducing the cost and impact of the attack.
#1: Implement a 3-2-1 backup strategy
One of the simplest and most cost-effective things a company can do to protect themselves against a ransomware attack is to implement a comprehensive backup strategy. We suggest that our clients follow a best practice backup strategy of 3-2-1. That means you should have 3 copies of your data on 2 different types of media with 1 of those copies being at an offsite location. The 3 copies of your data should be your production copy and two backup copies. The two backup copies should be on different types of media like using an external hard drive, optical disk, tape, or a seperate network attached storage (NAS) device. Finally, one of those copies should be at an offsite location.
#2: Stay current on security patches
The hacker community is well connected, and they readily share information amongst themselves. Some of their primary targets for attack are OS, software and device firmware that has not been updated with the latest security patches. While large organizations have entire teams focused on maintaining and managing their infrastructure, this isn't always the case. It may be that the cost of dedicated staff is too high or that the expertise is simply not available in the local market. Regardless of the reason, when security patches are not current it creates a prime opportunity for hackers to exploit.
With multiple vendors and the sheer number of systems and updates to manage, implementing patches can be an overwhelming task that results in missed updates. Chances are your primary business is not managing IT infrastructure which prompts the question, why are you doing it? Many companies have chosen to put the burden of managing hardware, software and the overall infrastructure on a 3rd party by contracting for managed services. With a managed service you put the responsibility of staying current with security patches on someone whose primary business is IT.
#3: Educate employees on security best practices
The best technology solutions are only as good as the people and processes behind them and hackers aim to exploit that weakness. With this in mind, hackers cast a wide net by spamming end users with phishing emails in hopes that someone will "click" and create an entry point. Here are several things that might tip your end users off to a "phishing" scam:
• The email has a significant number of grammatical errors
• The sender is trying to create urgency by asking you to act quickly by clicking an enclosed link • You are offered something of value for acting on their request • The email content uses your name but is very generic in its content • The sender's domain name doesn't look authentic (i.e. JohnDoe@acmemail.com)
In addition to educating employees on security best practices you might also want to consider utilizing an email filtering service which is designed to identify suspicious emails and bring them to the users attention.
Don't go it alone, get help from the experts
Protecting your company from hackers is an ongoing battle and as many say it is not "if your company will be hacked but when your company will be hacked". By taking proactive steps you can prevent many breeches but also better prepare yourself to recover in the event one does happen. See how Racksquared can help protect your company with backup services, managed services and email filtering solutions.