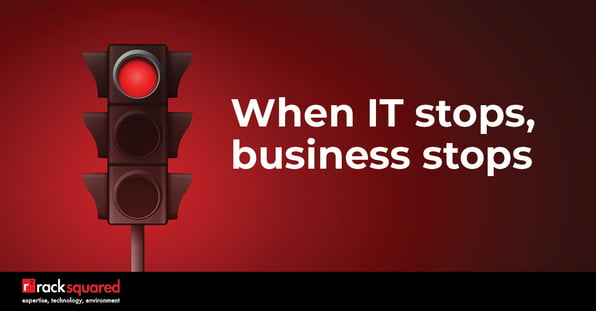 IT and your data are what keep your business up and running but if the systems are working and there is no data, business comes to a halt. That's why it's so important for you to have a comprehensive data backup process that includes steps for securely getting your data offsite.

In working with many small businesses, we often find that the one-and-only backup copy of a company's data is stored in a nearby desk drawer or taken home by an employee each evening. This can lead to the worst-case scenario: not having any data to actually recover when an event occurs.
You need backups you can count on
IT professionals routinely recommend the 3-2-1 best practice for backups. This means making three copies of your data, on two different types of media, with one copy held off-site. If you're backing up one copy of your data on tape and putting the tape in a drawer at the office, all of your data could be wiped out by a single event. A fire could ruin your primary data, along with any copies in your system, and then also that backup tape in the drawer. Many companies feel better because they keep their backups in a "fireproof safe" but what they don't realize is that the safe they are using is designed to protect documents, not digital media and when disaster strikes, the backup copy is destroyed.

Physical and logical distance between backup copies is an important aspect of meeting the "off-site" requirement. Storing a copy of your data in the same building, on the same campus or even on the same logical network can spell disaster. A natural disaster can potentially impact multiple buildings on a single campus and hackers will often spend time lurking on your network to identify backup copies so they can encrypt them, rendering them useless.


Pressure-test the security of your off-site plan
You might be following 3-2-1 best practice and taking your backup tape to an entirely different location, but you still need to think carefully about how the data is transported. Recently, we worked with a customer to pressure-test their backup process and learned that their off-site process was one person taking the backup tape home every evening. This method creates too many possibilities for losing the backed up copy and potentially creates privacy and compliance risk, depending on the data that is on the backup.

Let's think about one common scenario — stopping by the grocery store on the way home. What if it's the height of summer, the employee leaves the backup tape in the car, and it's damaged by heat? Or what if she carries the tape into the store, and it falls out of her purse when someone bumps her cart? (Then, what if someone else picks up that tape and finds customer credit card information because the data wasn't encrypted?)

And that's only a few possibilities in one common errand. It's not worth the risk.

It's time to consider cloud backups
Moving some of your backup process to the cloud can help you meet the 3-2-1 best practice. You can store an additional copy there, it can be one of the media types, and it's off-site. While this can be a great solution, you still have to take care to do it right. For example, you'll need access to updated technology since many older technologies do not support cloud backups.

You'll also want to make sure to use different logical networks. If your remote device is on the same logical network as your other systems, it can be easy prey for a hacker to steal your data.

Up level your backup strategy
No matter how you align with the 3-2-1 best practice, Racksquared is ready to examine your process and make it fail-safe. Our experts have significant experience determining where backups can go wrong, and we ask the right questions to uncover any gaps in your process. As a cloud backup services provider, we have the latest technologies ready to handle even the toughest backup processes, and we can help you utilize the cloud in the way that works best for your needs.

Get in touch with Racksquared today and learn more. Download our Executive Guide – Data Backup #FAIL to read more about backup processes and technologies.