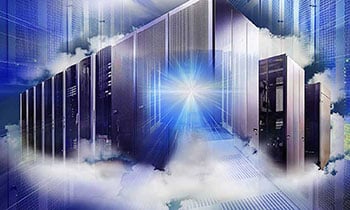 We're all users of technology, and in the data center space, we are continually leveraging new systems, methods of communication, and advanced technologies with the user in mind. As our world becomes increasingly more advanced and connected, small business leaders and IT professionals should consider new solutions and concepts around the management of their infrastructure.
Many are wondering whether to outsource IT to a data provider or store their data in the cloud. At first glance, cloud data services are convenient, compared to searching for and choosing a proactive data center partner. In reality, these cloud-based systems can be complex and costly especially as your company grows. Let's take a look at the differences between cloud services and outsourcing to a proactive data center partner, so you can understand what's best for your business.
Cloud Data Services
There's no doubt that we're moving toward a cloud-based world. Businesses today are beginning to experiment with cloud storage services that allow them to access data anytime, and anywhere with an Internet connection. As convenient as this may seem, there are many constraints with cloud storage such as local regulations, privacy or security requirements that your IT team may not be equipped to manage.
Downtime is also a significant disadvantage of cloud storage. The estimated cost of downtime is $5,000 per minute. Since the cloud is accessible through the Internet, service outages are always a possibility and can occur for any reason which can be critical for your business. Additionally, cloud data services are expensive. On average, computing on the cloud is roughly twice the cost of outsourcing to a fully equipped data center.
Outsourcing to a Data Center Partner
For small businesses who don't have an enormous IT budget or for large enterprises where over 43% expect their IT budget to stay the same even if they continue to grow, outsourcing to a proactive data center partner gives a better financial outlook. Businesses who outsource also receive technical assistance, in addition to the ability to store their servers away from company premises.
Proactive data partners also invest in the state of the art equipment, services, compliance, and connectivity. Security is also something that is top of mind for businesses large and small. Outsourcing provides a secure environment and gives companies more control over their data. With cloud services, the security risk is high – hackers, along with anyone with proper credentials can access company data through unprotected access points.
Racksquared Solutions that Protect Your Business
At Racksquared, our expert staff understands how to navigate today's complex IT environment. We are always investing in the latest technology to bring the best solutions to our customers – saving them money and responding quickly to their unique needs.
Are you interested in learning more about what Racksquared is doing to provide proactive data services? Contact us at 855.380.7225 or email to sales@racksquared.com.