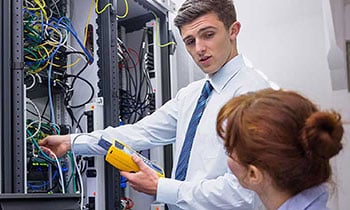 Some believe that the choice of a data center is irrelevant, that one data center is the same as another and that outsourcing is just a commodity. However, data center providers vary in many ways from accreditations, space and power capacity, connectivity options and offerings, to geographical location. Of course, there are other things to consider when choosing a data center provider – how much money they save your business, how quickly they respond in the event of a disaster, and how well they understand local regulation. All of these considerations can be used to describe a proactive data center. Let's start by taking a look at what this means for the consumer.
Proactive Data Center Partner Defined
In today's IT environment, it's crucial to have a proactive data center partner, but you're probably asking yourself "what is a proactive partner"? To get your answer, consider this – Does your provider only call when your bill is due? Are they just reaching out to sell you something? Do they know and understand your business needs? If this is the case, then they aren't a proactive partner that has your best interest in mind.
We created an eGuide, 6 Characteristics of a Proactive Data Center Partner, to elaborate on what makes a proactive partner – collaborative, problem solver, and listener to name a few. These characteristics can be used to help you determine if your provider will put in the effort to understand your specific IT needs and be there to offer solutions that will protect your business as it grows. Check out the eGuide to learn about the other three characteristics of a proactive data center partner.
Racksquared Solutions that Protect Your Business
At Racksquared, our expert staff understands how to navigate today's complex IT environment. We are always investing in the latest technology to bring the best solutions to our customers – saving them money and responding quickly to their unique needs.
Are you interested in learning more about what Racksquared is doing to provide proactive data services? Contact us at 855.380.7225 or email to sales@racksquared.com.
Resources: - https://www.datacenterknowledge.com/industry-perspectives/new-breed-data-center-providers