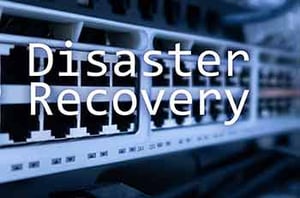 Picture this: you walk into the office on Monday morning after enjoying a great weekend, and login to your company's computer system. Instantly, you can tell something is wrong. Several of the files you frequently use for your job are gone!
Although it's normal to feel a sense of panic when this happens, try to remain calm. Data disaster recovery, while overwhelming, doesn't have to mean the end of the world for your business. In the event of a cyber threat, an internal mishap with your business's data, or a natural disaster, there are several steps you can take to get your company back on track and operating smoothly again.
Explore the ABC's of disaster recovery, below.
A. First,
Access

the Damage

First and foremost, you need to access the damage. To do this, first contact your IT department and make them aware of the issue, if they aren't already. Then, ask yourself the following key questions as soon as you realize your information is missing:
• Is the information missing from the entire system, or just from select team members' computers? Does a comprehensive list of all the files and folders you normally access exist anywhere?

• When was the last time you accessed the missing information?
• Are you able to tell if the files you need are corrupt, or just missing?
If you're unsure of some (or all) of the questions above, your data center partner will also be able to help. After corresponding with your internal IT team, your company will want to contact them next. If you've implemented a backup system for your information, chances are you're in great shape. If not, let's explore what that would entail, next.
B. Next, Implement Better
Backup

for Your Information

A backup system for your data is absolutely vital. Unfortunately, many companies don't think about the importance of having a backup until they're in disaster recovery mode. After a catastrophic situation occurs such as a cyber security breech or natural disaster, a backup for your information is a no-brainer. However, we urge you to take precautions before this happens to ensure you're totally protected. Don't wait until you're in a volatile situation.

Although you could host a duplicative version of your data on your existing computer systems, we don't suggest doing so. What if another cyber security threat hits? Or your office floods unexpectedly? Or you're the victim of an office fire? In all of these scenarios, you'll be right back to the same situation where you've lost all of your data.

It's time to consider a more secure backup system: the cloud.
C. Lastly, Protect Your Data in the
Cloud.

At Racksquared, we offer customers a cloud-based backup solution to better prepare them for disaster recovery. We'll walk you through the entire cloud backup journey, from the signup process, to the organization of your backup files, and the pricing structure of our plans. Our backup systems are incredibly secured, monitored by our professionals 24-7, and are totally accessible whenever you need your information.

It's time to stop storing your vital company information, customer data, financial documents, key internal information, presentations and more on your desktop computers at the office. Let's talk about a more secure solution today, so disaster recovery is no longer a debilitating situation for your company.