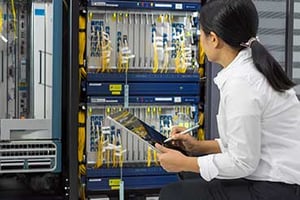 If you are like hundreds of thousands of organizations world-wide, somewhere in an office, warehouse or maybe on the dock sits a black box with a silver IBM logo, chugging along, powering your business' most critical applications, every minute of every day.
For more than 30 years, IBM Power Systems servers – commonly referred to by the original moniker of AS/400 – have become fixtures of the business world. Unfortunately, three decades is also a long time for the people running them to develop a series of bad habits. And while these systems have served business well to date, we see 5 common mistakes that can bring a business to it's knees.
Inexperienced IBM Power administrators
We've been warned for years about a mass exodus of skilled IBM Power admins, as the professionals who grew up with the tech enter retirement. With the next generation of IT pros uninterested in mastering this "legacy" technology, businesses are facing a serious crunch to backfill their IBM talent.
That's where we see one of the most common mistakes. They are shifting responsibilities to an already-overburdened IT administrator in another department that often does not have any IBM Power expertise. The results can be costly: You might invest in growing your own IBM talent only to lose him or her to the next highest bidder. Or worse, you can create a situation where an inexperienced admin enters one bad command line of code, causing the whole system to come crashing down.
Incomplete backup strategies
Most IBM teams we talk to know how important it is to back-up their data but and each day they do a tape back-up. Where they fall short is that often times, the tape never leaves the building, often being store in the same room as the primary data source. Another common mistake is backing up the data but never running an "Option Save 21" to back-up the entire system and position themselves to recover it if necessary.
Imagine having your Power system crash, only to discover the most recent backup you have doesn't contain all of the information you need to recover in a timely manner. Something like this can destroy your relationship with customers, take your business offline for days and in the worst-case scenario spell the end of your companies existence.
No disaster recovery
Having a good backup approach is only one half of the equation. If a disaster strikes, your business needs a reliable and efficient way to retrieve and relaunch your workloads. Unfortunately, many businesses running IBM Power servers fail to put in place adequate disaster recovery plans, despite their best intentions.
We've seen everything from not moving tape backups to secured, offsite locations, to not having planned out access to infrastructure for use in bringing your business back online. Without a plan for access to infrastructure, your business could do down for days or weeks rather than a matter of hours.
IT environment nightmares
For something as critical to the business as your IBM Power server, we it is not uncommon for us to encounter some truly scary IT environments. While it's understandable that not every business can invest in a sprawling state of the art data center, there are better places to put the AS/400 than in a windowless, unventilated coat room, or under a fire-suppression sprinkler in the back office. Not having the right generator in place is another big one – with backup power supply issues causing more than 35% of data center outages.
From drastically reducing the lifespan of your hardware, to potentially having your business offline for days, the consequences of not properly housing your IBM servers can be costly.
Forgetting about security
Today, businesses of all sizes, in all industries, need to worry about targeted security threats. So, it can be a terrible mistake to forget about the security of your IBM boxes, on the physical and logical levels. It's common to see servers in rooms without a locked door or security cameras, enabling just about anyone to come in and gain physical, unaudited access to their machines. We also see poor data security on the system itself, most often with poor password and access management settings.
In both cases, once you allow a bad actor entry to your IBM server, it's usually just a small leap for them to gain access to the entire enterprise. You're leaving your business exposed to the whims of disgruntled employees, or for-profit hackers, who'll commandeer your data and potentially shut down operations until demands are met.
Avoid the mistakes with a partner like Racksquared
All of these mistakes are thankfully avoidable. But executing on all of them, perfectly and all at once, is increasingly difficult. Today's IT is charged with supporting the business through modernization, a shift to the cloud and unlocking agility. Which is one reason why businesses are starting to move their IBM servers to the cloud, with a partner like Racksquared.
Doing so gives you instant, 24/7/365 access to a team of IBM Power experts; gold-standard backup and recovery practices; and the confidence of knowing your data is being protected in state of the art, always-on facilities.
While IBM Power has been an integral part of businesses for over thirty years, there's no reason to keep making the same mistakes. To learn more about how taking your IBM Power and IBM i to the cloud with Racksquared, click here to learn about our IBM solutions and to download our book "5 Reasons to put Your IBM I in the Cloud".