According to TechTargets, "The term cloud came into widespread use in 2006 when Amazon launched AWS with the Elastic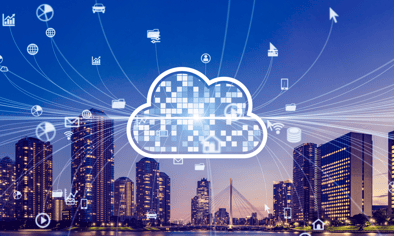 Compute Cloud (EC2) service". Since that time, there have been endless debates as to whether it is better to host IT infrastructure on-premises or in the cloud. From my perspective, the answer is a definite "it depends". How do you figure out what's best for you? Check out the three questions you need to ask as you determine on-premises versus the cloud. Your company should have the expertise, technology, and environment to support your business requirements.
Do I have the right expertise on my staff?
Many of the companies that I speak to fall within the small to medium business (SMB) segment of the market and have a very similar profile when it comes to their IT departments. The typical SMB that I speak with has 5 or fewer full-time staff on their IT team. The team is typically anchored by one or two seasoned technology veterans that set strategy and act as the glue that holds IT together. These veterans usually have a broad range of knowledge and depth in one or two areas. The balance of the staff is willing to pitch in wherever they can and "figure things out". These are teams that are doing the best they can with what they have from a knowledge, budget, and resource standpoint. When I speak to larger enterprises, I see much larger teams and greater expertise but the one commonality I see across SMBs, and enterprise organizations is a lack of skills and experience around IBM Power. The IBM Power experts are aging and retiring and not being replaced by new talent. To put it into simple terms, there is a shrinking pool of IBM Power experts and it's impacting companies of all sizes.
As you evaluate on-premises versus the cloud you need to consider whether your staff can give you the level of support necessary to support your business. In many cases, the IBM Power server runs some of your most critical business applications and not having the proper expertise can put your business at risk. As you consider your staff's ability, start by looking at the level of IBM Power expertise on your team. Do they truly know the system or are they "figuring it out"? Is the system being properly managed, monitored, and maintained? Do you have "the guy" that supports the system, or do you have a team capable of doing so? What would you do if a disaster struck while your expert was five hundred miles away lying on a beach? Is the expertise on your team commensurate with the importance of this system?
With an IBM Power in the cloud service provider, one of the most critical things you gain is access to expertise. Your service provider should have multiple IBM Power admins that have a broad and deep skill set related to the hardware and operating system. Over the years, these experts have "seen it all" while working with multiple customers each with unique business requirements, implementations, and challenges. The staff is available 24x7x365 to stay on top of the management, monitoring, and maintenance that is necessary to keep these devices running and secure. In the event of an emergency, they have their own knowledge to leverage but can also contact their IBM Business Partner/Reseller or IBM to escalate the resolution of issues. The bottom line on a service provider, managing IBM Power is their core business and they are experts at it.
Do I have the best technology for doing this myself?
Purchase hardware, depreciate hardware, and repeat. This is the strategy that many companies have employed for years and shifting their thinking from a capital expense model to an operating expense model can be a bit overwhelming. For starters, it's often hard to build out a cost model that allows for an apples-to-apples comparison of solutions that fall into the two models. With the capital expense model, it is easy to fall into the trap of focusing on the cost of the server and ignoring the peripheral services and benefits that come with a cloud-based solution that is an operating expense.
When we speak with companies the most common scenario, we see is a customer with a single aging IBM Power server, running an older OS, with onboard storage and a tape backup machine. The server often has more resources, as in processor, memory, and storage, on it than are required. Some companies will have an older box on-site, with the intent that it could be used for disaster recovery (DR), but few have a formal DR plan. Similar to how we described expertise, the company is simply doing the best they in with what they have available. Rather than poke holes in the "we are doing the best we can" model, I will jump right into the technology benefits you can expect from a cloud service provider.
With an IBM Power in the cloud service provider, you are not just buying into their IBM Power servers as you also get to take advantage of their overall architecture and the devices that are part of it. Let's first look at the IBM Power hardware and what you should expect. For starters, a service provider is going to provide you with access to the latest IBM Power servers available from IBM. The provider should have multiple hosts all with the latest OS and most current PTFs installed, they may also provide access to systems running legacy OS systems for customers that have been "trapped" on older systems. These new systems will all have current hardware and software maintenance allowing the provider to quickly get support from IBM when needed. With a cloud-based solution, you should be able to pay only for what you need (processor, memory, and storage) and spread your LPARs over multiple hosts to reduce the risk of a single hardware failure taking out all of your systems. These multiple hosts can also provide the service provider with a path to faster recovery from a hardware failure.
Beyond the IBM Power infrastructure, your service provider will likely be able to provide you with SAN-based storage, virtual tape library backups, and physical tape backup with offsite storage. The combination of these other technologies can provide you with faster I/O, reduced downtime for backups, and a quicker path to recovery in the event of a disaster. Done correctly, you end up with multiple copies of your data on different media and one air-gapped and offsite. This allows you to meet best practices for data backup. When you are evaluating your hardware strategy, be sure to look beyond the simple math of comparing the purchase price of a server to the cost of the cloud service and consider all the benefits you get with the cloud-based solution.
Is my environment secure, reliable, and resilient?
When it comes to environment, there are a wide range of topics we can look at. For starters, let's just agree on the fact that most companies are not in the data center business and thus do not have their IT infrastructure equipment in a built-for-purpose location. Some have made significant investments to replicate a data center environment while others do the best they can with what they have and locate equipment in an office, closet, warehouse, or other space. For a worst-case scenario, let's consider natural disasters. Mother nature is unpredictable and powerful, capable of massive destruction through hurricanes, floods, tornadoes, wildfires, earthquakes, or other acts, all of which can disrupt your business. According to Forbes Magazine, "Over the past five years, the U.S. has experienced an average of 17.8-billion-dollar climate disasters each year. That included 18 climate disasters in 2022, which caused a total of $171.5 billion in damage" (Gusner & Masterson, 2023). In a centralized model, if your IT infrastructure is damaged it can impact not only the site that was hit by the disaster but also all your remote locations. Beyond natural disasters, you also must consider service outages for your internet, power, and HVAC units. Depending on where you are located you may be able to get multiple service providers and diverse building entries but even when available it comes at a significant cost. The solution I hear most often for a backup for HVAC units is window air conditioners, fans, and "we open the doors and windows".
With an IBM Power in the cloud service provider, you are going to get a built-for-purpose environment. Data centers come in various shapes, sizes, and designs but at their core, they are all designed to be secure, reliable, and resilient. From a design standpoint, a built-for-purpose data center will minimize flammable building materials, opting for concrete and steel when possible, and utilizing electrical power over natural gas for utilities. In addition, many data centers are low profile and incorporate mounding around the structure to protect them from high winds and storm damage. Internet and power are delivered to the building with redundancy and diversity of paths and entry points to the building. Onsite UPSs and generators provide power conditioning and ensure that in the event of a service provider outage, the facility can self-heal without the customer experiencing downtime. High-end HVAC units are designed to maintain optimal temperature and humidity within the building and are deployed with excess capacity in them so that in the event one unit fails there is another capable of carrying the full load.
Focusing on expertise, technology, and environment
If you focus on these three areas, you can build out a comprehensive model for comparing on-premises hosting to a cloud hosting service provider and draw your own conclusions as to which makes the most sense for you. If you would like to learn more about IBM Power in the cloud, the experts at Racksquared Data Centers have been providing these services for over 30 years, since well before it was called cloud. With our IBM Power Solutions, we do everything from colocation of IBM Power to fully managed IBM Power in the cloud as well as backup and disaster recovery solutions. To set up a time to talk, email us at sales@racksquared.com or call 855-380-7225.
Bigelow, S. J. (2022, November 15). The History Of Cloud Computing explained. WhatIs.com. https://www.techtarget.com/whatis/feature/The-history-of-cloud-computing-explained#:~:text=The%20term%20cloud%20came%20into,Compute%20Cloud%20(EC2)%20service.
Gusner, P., & Masterson, L. (2023, May 18). Natural disaster facts and statistics 2023. Forbes. https://www.forbes.com/advisor/homeowners-insurance/natural-disaster-statistics/