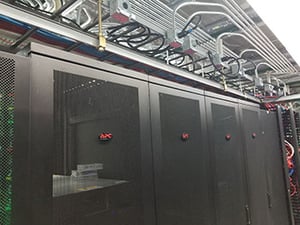 Have you ever wondered if colocation services make sense for your company? Consider this, Vertiv and the Ponemon Institute conducted a survey of 63 data centers, that had experienced outages, and found that 46% were caused by data center equipment issues such as uninterruptible power supplies (UPSs) and generators, 22% human errors, 22% cybercrime, and 10% were related to weather. By adopting a colocation strategy, you can dramatically reduce your business risk associated with each of these factors.
A Common Definition of Colocation Services
Traditionally, colocation services have been defined as ping, power and pipe. This means you host your computers and equipment at a colocation service provider's facility and they provide you with the ability to access computers remotely (ping), electricity to run your equipment (power) and a connection to the internet (pipe). What's not explicitly stated here is that the colocation service provider is also delivering an optimal physical environment for your equipment and it is done in a manner that is secure, reliable and resilient. This ensures that the technology your business relies on is always up and running.
Now let's revisit the risk factors called out by the Vertiv survey.
Overcoming Data Center Equipment Issues
Operating a resilient and reliable data center is expensive and let's face it most companies simply don't make the investment. For many, the phrase "onsite data center" just means the area of the building in which technology is housed. It's a storage closet, an extra office or maybe an out of the way corner of the building. Most companies have tried to build in resiliency and reliability but due to lack of expertise or limited IT budgets often fall short of delivering.
The Vertiv survey calls out 46% of outages being related to data center equipment issues such as UPSs and generators, this falls squarely into the colocation category of "power". Providing reliable, resilient electricity to your equipment is at the core of what a colocation service provider does. Using UPSs, automatic transfer switches and backup generators a service provider can guarantee near 100% availability of electric to your equipment. Further, your provider will keep everything on a periodic testing and maintenance schedule so that if disaster strikes, the equipment is ready to go and you won't see an interruption in service.
Securely Solving for the Human Element
Tied for 2nd in the survey were human errors and cybercrime at 22% each, 44% when combined. I'm combining these two as there is significant overlap between human errors and the opportunities those errors create for successful cybercrime attacks. When people don't properly apply patches and updates or fail to change passwords (using best practices) this creates security gaps the hackers can exploit.
Probably the single best way to reduce human errors is to have clearly defined processes and procedures that include checks and balances for quality and change control. This allows for multiple people to be involved in a well-defined process to make sure that decisions and implementation steps are being followed. When IT isn't your core competency and when resources are stretched thin, developing and documenting processes often doesn't happen.
With a colocation services provider, IT is their core business and thus they will go to great lengths to develop and document processes and procedures. As a matter of fact, data center colocation companies go through audits such as the Payment Card Industry Data Security Standard (PCI DSS) and Service Organization Control 2 (SOC II) to verify procedures are documented and being followed. These audits not only validate who gets access to a rack in a data center, they also validate security by penetration testing, checking firewall rules, change management procedures, background checks, and verifying data center maintenance procedures.
Weather Threats and Riding out the Storm
The final cause in the outage survey was weather, coming in at 10%. I would assume this would include weather related outages of power and internet but could also include fire, flooding and other related natural disasters. In the above section we talked about how a colocation services provider can provide 100% availability of power but it does you no good to have power to your location if the resources there cannot be accessed because your internet service has been interrupted.
A colocation services provider will make sure that not only do you have power but that you have internet (pipe) as well. When planning for resiliency, colocation service providers install redundant internet connections, provided by multiple carriers and have diverse entry points into their building to protect against service disruption. This provides multiple paths into the building from multiple carriers to eliminate the risk of having a single point of failure with a single vendor.
Data Centers Have Services to Offer
Leveraging a colocation service provider offers companies many services that they may not be able to achieve in an onsite data center. Here are a few services that you may want to take advantage of:
• Hybrid Cloud – As hardware ages and capacity runs lean, data centers can offer cloud servers in their cloud or one of the major cloud providers.
• Backup Services and Disaster Recovery Services – Data centers give companies the ability to scale out backup and disaster recovery services without having to build out additional data center space.
• Storage as a service – Companies often find themselves running out of disk storage as their applications grow. Data center can offer storage solution with multiple connectivity options where companies can grow their storage on an as needed basis.
• Remote hands – Data centers have staff to help you monitor your environment, make changes, or to simply go press a button eliminating the need for you to be on-site to fix issues.
As you can see, by adopting a colocation strategy you can dramatically reduce your business risk. In addition, a relationship with a data center services provider, like Racksquared, also opens the door to a variety of other services while giving you immediate access to expertise, technology and infrastructure to keep your business up and running.
If you would like to learn more about what Racksquared has to offer, please contact us at sales@racksquared.com or 855-380-7225.