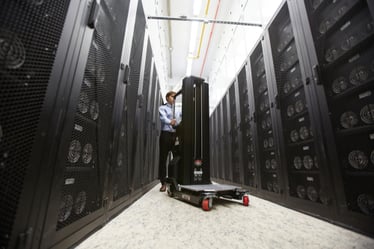 What if you could do one thing to save money, gain time for new projects, and protect your business operations?

That's what many companies gained when they moved their IBM i to the cloud. After weighing the pros and cons, the reasons to migrate to the cloud are too compelling to ignore. See why the cloud is the best environment for your IBM i, and start planning your move today. You'll be on your way to cost savings, freed-up staff time, and more protection for your business.

Increase Staff Capacity — Both in IT and Beyond
Released in 1988 as the AS400, this line of IBM servers was the original powerhouse of business computing. These boxes have been extremely valuable across industries — handling everything from payments to inventory to financial information and more. Over three decades, a niche group of professionals developed the expertise to run these systems. And now they are retiring.
Most of these IBM i professionals are self-taught, and training is scarce. Even when training or mentoring is available, most young IT staff are not interested in learning IBM i. This makes staffing a major issue. In Help Systems' latest survey of the IBM i marketplace, 46% of respondents said skills shortage was a top concern. When we talk to companies, we hear a very consistent story. Their iSeries admin has retired, or will be retiring, and they need a go forward strategy.

With iSeries expertise hard to find and business critical applications running on the iSeries, companies can't risk problems with their iSeries. With a Racksquared hosted iSeries, you haven't just hired an admin, you now have access to a team of IBM i experts that are available 24x7x365.You're HR team is no longer placing job ads, talking to recruiters, and wading through resumes and LinkedIn profiles hoping to find an iSeries candidate, they can move on to filling other roles in your business.
Predictable Pricing and Cost Savings
If your organization is replacing a POWER8 or POWER9 it can be a huge capital expense — prices start around $100,000 and can be over $500,000. With your IBM Power in the cloud, you shift to an operating expense model with predictable monthly payments and have the flexibility to pay only for the resources you need, scaling up and down as business needs require.

Often, moving IBM i to the cloud ends up being a cost savings for organizations. These companies no longer have to allocate space to maintain servers and storage. They don't have to worry about temperature control for valuable machines or the power it takes to run them. They also get away from paying hardware and software maintenance costs which are a growing expense as the hardware ages.
Disaster Resilience, No Downtime, and Faster Everyday Performance
Your business runs on IT. So if your IBM i is down, chances are your business is down. What happens if there's a natural disaster in your area? A fire in your building? Or even a power outage? Disasters happen, but you can't afford for your business to be offline for an extended period of time. When you migrate to the cloud, your cloud service provider builds resiliency into their architecture so that when disaster strikes, the environment self-heals and customers, often times, never see it. In the aftermath of a disaster, you have enough on your plate taking care of your employees and any damages. The cloud allows you to focus on what's important while your business continues operating.

But leveraging the cloud doesn't just pay off in times of disaster. Many companies that we work with benefit from access to newer and better technologies. Customers often will report that application response times are shorter and that jobs that use to take all night to run are now completed in a fraction of the time.
Managed IT Services and Security
Managing your IBM i on premise is complicated when you do it right. It takes a lot to design the right environment with temperature control, a secure power grid, fire suppression, UPSs, backup generators, and proper storage and handling of backup tapes and other hardware. You have to regularly check on requirements and make adjustments. Then there's licensing requirements to handle, software upgrades to perform, error messages to check, new security measures to implement, and on and on….

All of this takes time and expertise. And too often, it falls below the priority line on a long to-do list. It's a lot easier when there's an expert team on duty devoted to doing this work every day. As one of our clients put it: "All that worry goes away."
So, what if you could save money, gain time, and protect your business operations?
It's worth looking into. Check out all of our IBM Solutions or contact us , and let's see how this could work for your organization.