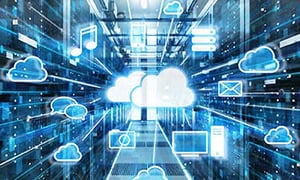 Whether you manage your data in-house or through a data center provider, you've likely heard of Veeam. But do you understand Veeam's full range of capabilities? Today, 60% of businesses are benefiting from using Veeam Cloud Connect Backup with a recovery time of fewer than 15 minutes and data replication up to 50 times faster than raw data transfer. So, what are you waiting for?
By partnering with Racksquared, our experts can help you get started with Veeam whether you work for a small business or large enterprise.
What is Veeam?
Veeam is a privately held information technology company, headquartered in Baar, Switzerland and Columbus, Ohio. Veeam® Backup and Replication™ is a software product developed by the company to back up, restore, and replicate data on an operating system (OS) that imitates dedicated hardware – better known as virtual machines (VMs). Veeam is one of the first vendors to develop backup software tailored to VMs. Before Veeam, backup applications couldn't recognize the difference between protecting physical and virtual machines.
How to Get Started with Veeam
So what are you waiting for? Protecting your business is easy with Veeam Cloud Connect Backup. Get started by following these three steps:
1. Complete your Veeam Cloud Connect sign-up form for a

free 30-day trial.

Enter the number of VMs and the amount of storage needed.
2. Configure your Veeam backup software and

select Racksquared as your preferred service provider for Cloud Connect.

Log in with the username and password provided.
3. Select your backup schedule and backup your data to Racksquared Data Center's backup target.

Restore from Racksquared at any time at no additional cost.
Racksquared Solutions that Protect Your Business
Racksquared is a proud member of the Veeam Cloud & Service Provider Program. Our expert staff understands how to navigate today's complex IT environment. We are always investing in the latest technology to bring the best solutions to our customers – saving them money and responding quickly to their unique needs.
Are you interested in learning more about what Racksquared is doing with Veeam? Contact us at 855.380.7225 or email to sales@racksquared.com.